Welcome to 8th grade! As you begin this new and thrilling chapter in your educational adventure, we want to give a friendly and sincere welcome to each and every one of you. We know that moving up to a higher grade can be both exciting and tough, but don't worry because we are here to support you.
In 8th grade, you will encounter a wide range of subjects and topics that will expand your knowledge and help you develop important skills for future success. Whether it be English Language Arts, Pre-Algebra, Science, World History, or an array of elective courses, our dedicated staff is eager to guide you through the learning process. Additionally, we encourage you to actively participate in your elective courses, extracurricular activities, clubs, and sports, enhancing your overall experience and fostering friendships and personal growth.
Middle school is a crucial period in a student's educational journey, where they make the transition from elementary to high school. During this time, students are exposed to a more challenging curriculum that prepares them for the rigors of high school and beyond.
Our core curriculum consists of English Language Arts, Pre-Algebra, Science, and World History. Additionally, students have the opportunity to choose the electives that interest them. In 6th grade, students can choose from the following electives:
Avid
Band & Chorus – Including Beginning Band, Concert & Symphonic Band, and Jazz Band.
Computer Applications in Business 1 & 2
Peer Assistant
Art 3D
Exploring Technology
Intro to Arts, A/V Technology
Physical Education
Agriscience Foundations
Computer Science Principals
Spanish 1 & 2
Our middle school curriculum is designed to provide students with a well-rounded education that prepares them for the challenges of high school and beyond. With a strong focus on academics and character development, students are equipped with the skills and knowledge needed to succeed in life.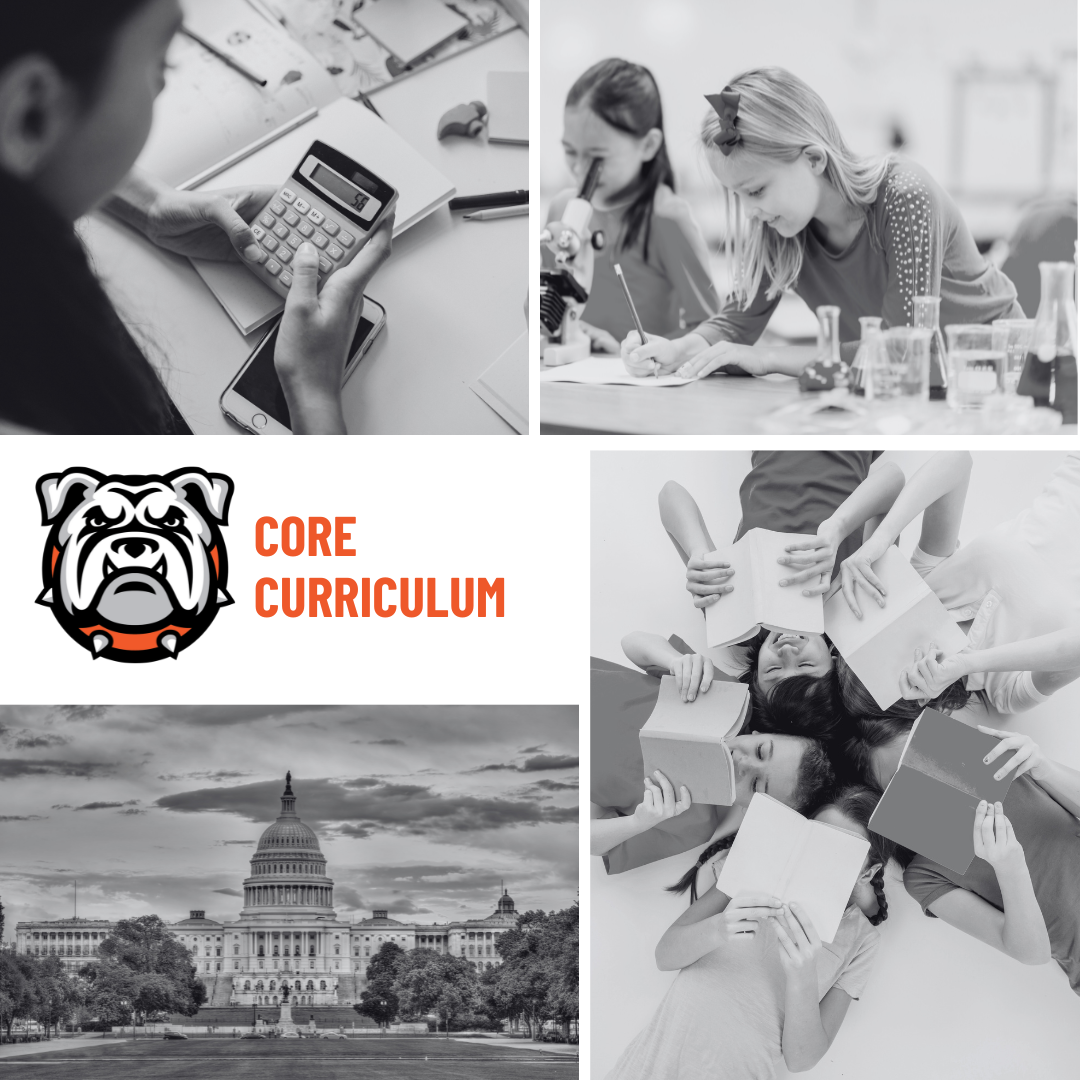 English Language Arts (ELA)
Mathematics

In grade 8, instructional time will emphasize six areas:
Representing numbers in scientific notation and extending the set of numbers to the system of real numbers, which includes irrational numbers.
Generate equivalent numeric and algebraic expressions including using the Laws of Exponents.
Creating and reasoning about linear relationships including modeling an association in bivariate data with a linear equation.
Solving linear equations, inequalities and systems of linear equations.
Developing an understanding of the concept of a function.
Analyzing two-dimensional figures, particularly triangles, using distance, angle and applying the Pythagorean Theorem.
---
In Algebra I Honors, instructional time will emphasize five areas:
Performing operations with polynomials and radicals, and extending the Laws of Exponents to include rational exponents.
Extending understanding of functions to linear, quadratic and exponential functions and using them to model and analyze real-world relationships.
Solving quadratic equations in one variable and systems of linear equations and inequalities in two variables.
Building functions, identifying their key features and representing them in various ways.
Representing and interpreting categorical and numerical data with one and two variables.
Students who have successfully completed the middle school math content take algebra 1 honors for high school credit.
Science
In 8th grade, students will complete units on the following topics:
Atomic Theory
Properties of Matter
Compounds of the Periodic Table
Law of Conservation of Mass
Photosynthesis and Cellular Respiration
Matter and Energy Transformation
The Universe
Gravity and Stars
Solar System
Sun, Earth, and Moon Interactions
Planetary Images and the Electromagnetic Spectrum
Science and Society
World History
The primary content for this course pertains to the world's earliest civilizations and the ancient and classical civilizations of Africa, Asia, and Europe. Students will be exposed to the multiple dynamics of world history including economics, geography, politics, and religion/philosophy. Students will study methods of historical inquiry using primary and secondary historical documents to build their foundation of history.
Please review the Course Card video to learn about your 8th-grade Course Card. Don't hesitate to contact your 8th-grade counselor if you have any questions or concerns!
Infinity is a blended learning classroom offered to students in 6th through 8th grade. The Infinity class combines online, face-to-face, and student-paced learning. This blended learning program will allow students to accelerate their courses, and work at their own pace while receiving individualized support. The curriculum is computer-based through the Pasco e-School curriculum. All students selected for the Infinity program will be issued a computer for their academic use at school and at home.
Thank you for your consideration, and please reach out to Ms. Brittney Dean, if you have any questions!
Course Description
Yearlong college-readiness elective ensures students "in the academic middle" succeed in rigorous courses. Provides organization skills, time management, note-taking strategies, college tutors in class, and field trips to local colleges. Must submit an application to apply for this elective. Avid requires at least one advanced class.
Course Description:
These exciting year-long classes teaches students how to play a band instrument. Students will learn the fundamentals of performing a band instrument and experience the joys of performing in front of others in a concert setting. Students in these bands will have the opportunity to perform for our school, community, and throughout central Florida! Students who have never been in the band should select Beginning Band; whereas students who have completed Band should select Concert & Symphonic Band.
Course Description:
This fun year-long course teaches students to perform jazz music in a traditional "big band" setting. Students perform throughout the year at community and school events. Jazz Band students must have completed Beginning Band and be a member of either the Concert or Symphonic Band.
Course Description:
This year-long elective assists students in making informed decisions regarding their future academic and occupational goals and provides information regarding careers in the Business Management and Administration career cluster. Students will learn intermediate (CAB 1) and advanced (CAB 2) keyboarding, word processing, electronic presentation, computer hardware, Internet, spreadsheet, and skills for business applications.  These competencies provide the skills necessary to ensure increased productivity and efficient utilization of equipment. Students have the opportunity to work towards Industry certification.
Course Description:
This year-long elective teaches students the skills and necessary to work with students, assist teachers & administrators, and allows you to be a leader for our school, family, and community. An application and selection process is required.
Course Description:
This semester-long elective teaches students to translate their two-dimensional skills into three-dimensional forms through the exploration of natural, abstract, and synthetic sculptural forms using materials that may include, but are not limited to, clay, plaster, and mixed media for creative expression.
Course Description:
This semester-long elective teaches students about technology, including aeronautics, internal combustion engines, robotics, prosthetics, rocketry, alternative energy, and the science, physics, and history behind these topics.
Course Description:
This semester-long elective provides students with the knowledge, skills, and values to become healthy and physically active. This class requires daily participation, appropriate attire, and a locker (fee required). Optionally, students can purchase a P.E. uniform.
Due to state mandates, all students must complete this semester-long elective (unless a P.E. waiver is completed). In this class, students will learn knowledge, skills, and values to become healthy and physically active.
Course Description:
This year-long elective teaches about agriculture literacy, livestock, plants, natural resources, and the global role of agriculture. This year-long high school science honors credit impacts high school graduating GPA and ranking.
Course Description:
This year-long elective continues the foundational concepts of computer science and challenges students to explore how computing and technology can impact the world.  More than a traditional introduction to programming, it is a rigorous, engaging, and approachable course that explores many of the foundational ideas of computing, so all students understand how these concepts are transforming the world we live in. This course requires the successful completion of Computer Science Discoveries. (High school math credit may be earned upon successful completion).
Course Description:
Explore the different cultures of Spanish-speaking countries, while learning how to read, write, and speak Spanish. This year-long high school world language credit impacts high school graduating GPA and ranking.