Welcome to 7th grade! As you embark on this new and exciting chapter in your educational journey, we want to extend a warm and heartfelt welcome to each and every one of you. We understand that transitioning to a new grade can be both exhilarating and challenging, but fear not, as we are here to support you every step of the way.
In 7th grade, you will encounter a wide range of subjects and topics that will expand your knowledge and help you develop important skills for future success. Whether it be English Language Arts, Mathematics, Science, Civics, or an array of elective courses, our dedicated staff is eager to guide you through the learning process. Additionally, we encourage you to actively participate in your elective courses, extracurricular activities, clubs, and sports, enhancing your overall experience and fostering friendships and personal growth.
Middle school is a crucial period in a student's educational journey, where they make the transition from elementary to high school. During this time, students are exposed to a more challenging curriculum that prepares them for the rigors of high school and beyond.
Our core curriculum consists of English Language Arts, Mathematics, Science, and Civics. Additionally, students have the opportunity to choose the electives that interest them. In 6th grade, students can choose from the following electives:
Avid
Band & Chorus – Including Beginning Band, Concert & Symphonic Band, and Jazz Band.
Coding 1 & 2
Art 2D
Explorations of Agriscience
Intro to Technology
Physical Education
Spanish 1
Computer Science Discoveries
Our middle school curriculum is designed to provide students with a well-rounded education that prepares them for the challenges of high school and beyond. With a strong focus on academics and character development, students are equipped with the skills and knowledge needed to succeed in life.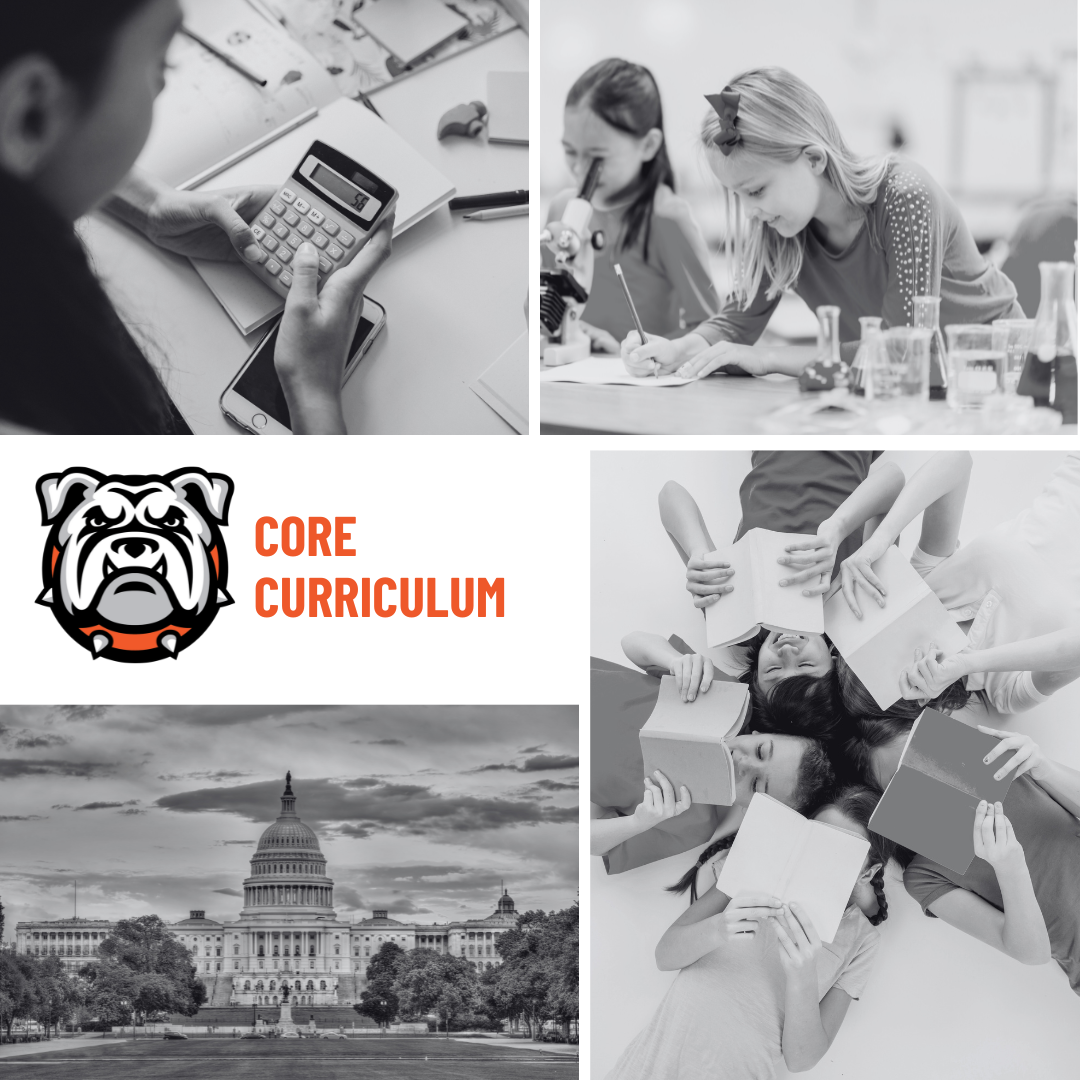 English Language Arts (ELA)
Mathematics

In Grade 7, instructional time will emphasize five areas:
Recognizing that fractions, decimals

and percentages

are different representations of rational numbers, and performing all four operations with rational numbers with procedural fluency.
Creating

equivalent expressions

and solving equations and inequalities.
Developing understanding of and applying proportional relationships in two variables.
Extending analysis of two- and three-dimensional figures

to include circles and cylinders

.
Representing and comparing categorical and numerical data,

and developing understanding of probability

.
7th-grade accelerated math students complete the remaining half of the 7-grade benchmarks (see items marked in orange above) and all of the 8th-grade benchmarks. Their areas of emphasis are the same as the 8th grade pre-algebra course.
Science
In 7th grade, students will complete units on the following topics:
Interdependence
Electromagnetic Spectrum and Sound
Conservation of Energy and Heat Transfer
Layers of the Solid Earth
Diversity and Evolution of Organisms
Heredity and Reproduction
Civics
The primary content for the course pertains to the principles, functions, and organization of government; the origins of the American political system; the roles, rights, and responsibilities of United States citizens; and methods of active participation in our political system. The course is embedded with strong geographic and economic components to support civics education instruction.
Please review the Course Card video to learn about your 7th-grade Course Card. Don't hesitate to contact your 7th-grade counselor if you have any questions or concerns!
Infinity is a blended learning classroom offered to students in 6th through 8th grade. The Infinity class combines online, face-to-face, and student-paced learning. This blended learning program will allow students to accelerate their courses, and work at their own pace while receiving individualized support. The curriculum is computer-based through the Pasco e-School curriculum. All students selected for the Infinity program will be issued a computer for their academic use at school and at home.
Thank you for your consideration, and please reach out to Ms. Brittney Dean, if you have any questions!
Course Description
Yearlong college-readiness elective ensures students "in the academic middle" succeed in rigorous courses. Provides organization skills, time management, note-taking strategies, college tutors in class, and field trips to local colleges. Must submit an application to apply for this elective. Avid requires at least one advanced class.
Course Description:
These exciting year-long classes teaches students how to play a band instrument. Students will learn the fundamentals of performing a band instrument and experience the joys of performing in front of others in a concert setting. Students in these bands will have the opportunity to perform for our school, community, and throughout central Florida! Students who have never been in the band should select Beginning Band; whereas students who have completed Band should select Concert & Symphonic Band.
Course Description:
This fun year-long course teaches students to perform jazz music in a traditional "big band" setting. Students perform throughout the year at community and school events. Jazz Band students must have completed Beginning Band and be a member of either the Concert or Symphonic Band.
Course Description:
This year-long elective explores different operating systems and increases awareness of programming language. Students will demonstrate proficiency in programming and computer coding software. This course allows students to earn industry certification and replaces a high school math credit. There is an FSA minimum requirement score to participate in the class.
Course Description:
This semester-long elective produces 2-D artworks and explores Western and non-Western cultures through developing skills in drawing, painting, printmaking, and collage.
Course Description:
This semester-long elective teaches students about agricultural literacy, livestock, plants, natural resources, and the role of the consumer.
Course Description:
This semester-long elective teaches students about technology, including aeronautics, internal combustion engines, robotics, prosthetics, rocketry, alternative energy, and the science, physics, and history behind these topics.
Course Description:
This semester-long elective provides students with the knowledge, skills, and values to become healthy and physically active. This class requires daily participation, appropriate attire, and a locker (fee required). Optionally, students can purchase a P.E. uniform.
Due to state mandates, all students must complete this semester-long elective (unless a P.E. waiver is completed). In this class, students will learn knowledge, skills, and values to become healthy and physically active.
Course Description:
Explore the different cultures of Spanish-speaking countries, while learning how to read, write, and speak Spanish. This year-long high school world language credit impacts high school graduating GPA and ranking.
Course Description:
This year-long elective focuses on the practical aspects of computer science and encourages students to explore its applications in various fields. It covers the impact of computer science on society, data analysis, and physical computing with circuit boards