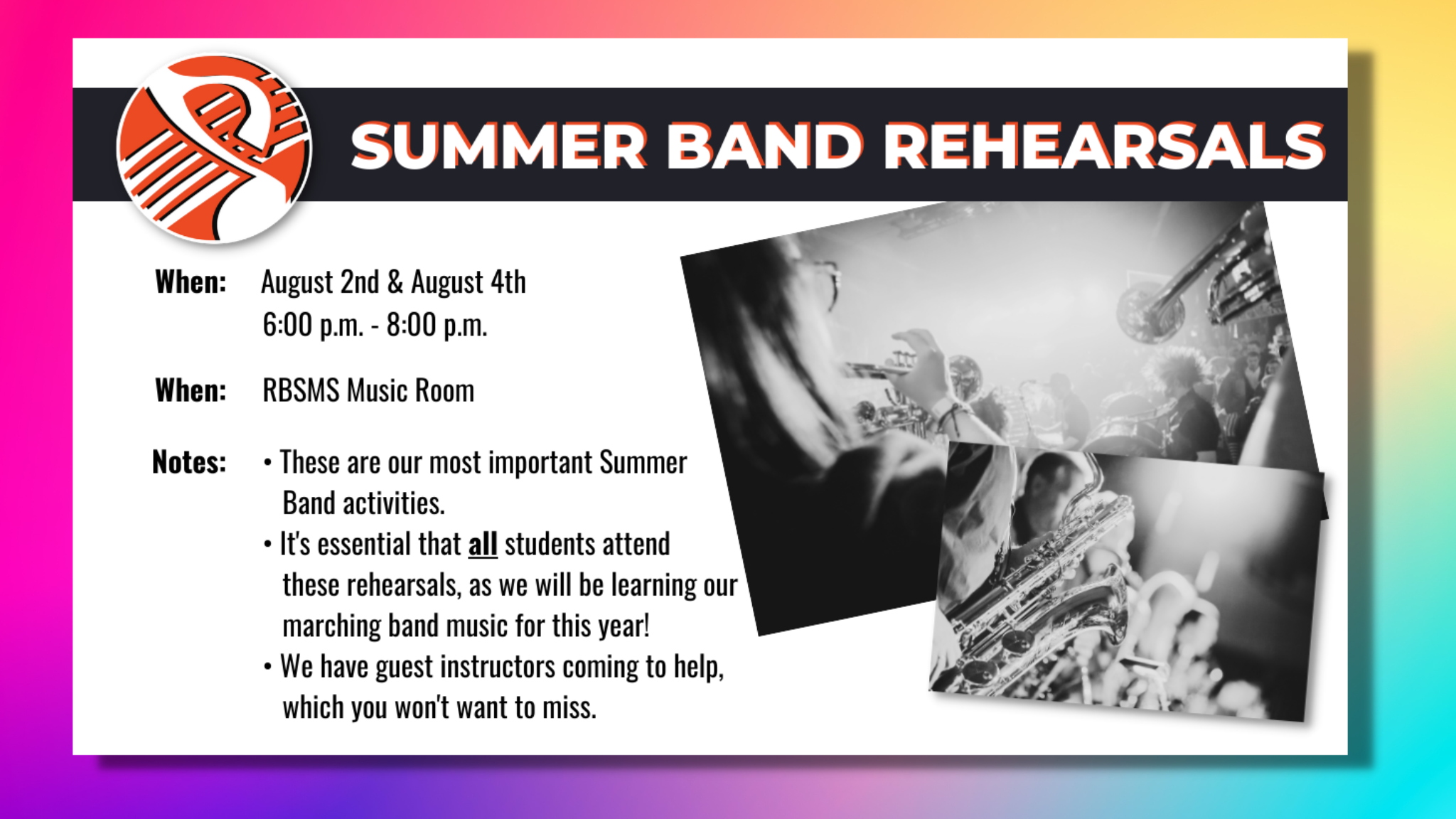 Our last and most important Summer Band activities are approaching. Be sure to mark your calendars for August 2nd and August 4th for our Summer Band Rehearsals. It's essential that all Concert, Symphonic, and Jazz Band students attend these rehearsals! Don't hesitate to email Mr. Schmidt if you have any questions or concerns (bschmidt@pasco.k12.fl.us).
ZHS Summer Band Information
The ZHS Band has asked me to share the attached information with all of our recently promoted 8th graders. This Summer, they will be holding a series of camps and practices to prepare for the next school year. Any 8th grader interested in joining the band should plan to attend these events. Of the dates listed, the most important is their Band Camp. Students who do not attend will be significantly behind in their preparations for next year. Please do not hesitate to contact Mr. Schmidt (ZHS) if you have any questions or concerns about any information provided. You can reach Mr. Schmidt (ZHS) at rschmidt@pasco.k12.fl.us OR by attending one of the Summer events.
I want to take a moment to congratulate all of our students on completing a successful school year. You all did a great job and made tremendous musical growth!
Over the Summer, we will be holding a collection of Summer Activities to help students prepare for the 2022-2023 School Year. All students should make an effort to attend these activities.
In addition to our Summer Band Activities, It is essential that our students continue to practice over the Summer. I don't expect them to practice non-stop, but I do hope that they continue to practice for 20-30 minutes per day. This type of individual practice will make a huge impact on the quality of our band and the types of activities we'll be able to participate in throughout the year.
Throughout the Summer, I will be sending out some email and text message reminders about our Summer Band Activities. I sincerely hope everyone has a safe and wonderful Summer, and that you take some time out of your schedule to join us for our Summer Band Activities.
Please email me at bschmidt@pasco.k12.fl.us, if you have any questions or concerns about these upcoming Summer Band Activities. I look forward to seeing you all soon!